IRB: The Cedars-Sinai Institutional Review Board (IRB) protects your rights and welfare if you take part in a research study. The IRB includes scientists, non-scientists and community members who review, approve and monitor all research at Cedars-Sinai in which people take part. This oversight keeps risks to research participants as low as possible.
The IRB also tracks ongoing studies to make sure they are being done in the right way.
You can contact the IRB with any concerns, questions, complaints or compliments. The IRB takes all complaints very seriously. The IRB investigates all complaints and concerns. You may contact the IRB at any time by calling, emailing or mailing a letter to:
Cedars-Sinai Institutional Review Board
6500 Wilshire Blvd., Suite 1800
Los Angeles, CA 90048
Email:
irb@cshs.org
Phone:
310-423-3783
For more information about Cedars-Sinai's Human Subjects Protection Program and IRB, visit the Cedars-Sinai Institutional Review Board.
FDA: The U.S. Food and Drug Administration (FDA) audits the IRB's files. FDA officials may visit Cedars-Sinai at any time and review anything they choose related to clinical trials.
Monitoring of study: The conduct of research protocols is monitored by doctors, nurses, sponsors, auditors, statisticians, and federal and nonfederal regulatory bodies. They carefully monitor the actual conduct and safety of protocols—the rules being followed during the research. This means that different groups are reviewing the safety and progress of each study on a regular basis. If any of these groups determine that there is a concern with how the study is conducted, the study will stop.
Protections from injury: You are protected first and foremost by being told honestly and without bias what the known and potential risks are for participating in the trial. This information will be submitted to you in a language you will be able to understand. There is an IRB requirement that every participant in a clinical trial be informed about the possible risks, benefits and available alternatives.
The information necessary to assist you in determining whether or not to participate in a clinical trial is provided in a document called the Informed Consent Form. This document informs you of how to let the investigator know if you think you are experiencing a problem with the research and what resources are available to help you.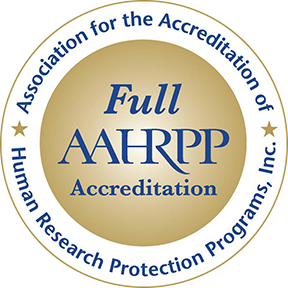 AAHRPP Accredited
The Association for the Accreditation of Human Research Protection Programs (AAHRPP) promotes high-quality research through an accreditation process that helps organizations worldwide strengthen their human research protection programs. AAHRPP accreditation offers assurances to research participants, researchers, sponsors, government regulators and the general public that an HRPP is focused first and foremost on human protections.
Cedars-Sinai was awarded full reaccreditation in 2020 and has been fully accredited by AAHRPP since 2004.